A few days ago, Alcatel-Lucent Enterprise (ALE), a wholly-owned holding company of China Huaxin and the world's leading unified communication solution provider, made joint efforts with Evergrande Tourism Group to sign a strategic cooperation framework agreement. According to the agreement, in future five to eight years, both parties will develop in-depth cooperation in the construction of "Evergrande Cultural Tourism City" throughout the country, gather strength to build a reliable, safe, aggregated, high efficient and high quality unified communication convergence system jointly around "Evergrande Fairyland", "Evergrande Water World" and "Evergrande Healthy Land" to meet diversified hotel, accommodation, entertainment and office needs of "Evergrande Cultural Tourism City" and enhance the "Digital Cultural Tourism" experience to a new level. The estimated data show that in the strategic cooperation, more than 300,000 user ports will be deployed to provide communication services for nearly 10,000,000 person times each year.
●According to the existing plan, both parties will develop strategic cooperation on a national scale for more than 30 projects.
●The cooperation period is as long as five to eight years and it is expected to deploy more than 300,000 users or communication devices.
●ALE provides Evergrande Tourism Group with reliable, safe, easy and flexible customized hotel and resort solutions.
The increasingly deepening and cluster-developing "Evergrande Cultural Tourism City" wishes to provide diversified services for tourists and families with different needs by implementing the "Digital Cultural Tourism" solution. ALE's innovative technologies, products and solutions have become an overwhelming choice for Evergrande Tourism Group.
Through the evaluation on independent operation and management needs of Evergrande Cultural Tourism City and paradise projects and the differentiation analysis on positioning of different projects and hotels, ALE recommends an industry-leading hybrid communication solution supplemented by the all-platform unified network management system to meet diversified complex needs, thus unified operation and maintenance management and network communication optimization can be realized for different projects in every Evergrande Cultural Tourism City, and supported by ALE's unique hotel industry solution, the following can be achieved:
●Centralized communication core platform that is not only reliable and safe, but easy to maintain and manage;
●Hotel and paradise gateway distributed deployment where choices can be made flexibly according to the need;
●Deploy a redundant hot standby system with professional 99.999% high reliability, where a sudden failure and explosive growth of passenger flow volume can be responded calmly;
●Break the device island, be compatible with multiple types of PMS devices, terminals and phones and protect the exiting and future investment;
●Hotel industry solution with rich functions that can meet the future need for mobile and intelligent guest experience;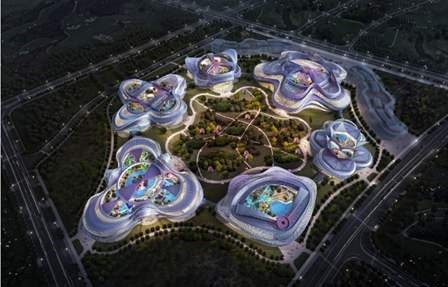 Tang Hui, Vice President of China Huaxin and chairman of Chinese area of ALE, said, "we're glad to reach the long-term strategic cooperation with Evergrande Tourism Group. ALE is always devoted to making use of its innovative technologies to build an Internet of everything, its cooperation with Evergrande Tourism Group reflects the vision for digital economy development appropriately, and ALE can realize full connection for diversified consumption needs and promote social and economic development by providing customized digital times network, communication and cloud solutions."
About Evergrande Tourism Group
Evergrande Group is an enterprise on the Fortune Global 500 list and it is based on real estate for people's well-being, supported by cultural tourism and health care services and led by new energy vehicles. As an important future-oriented planning project of Evergrande Tourism Group, the project of construction of Evergrande Cultural Tourism City includes two knock-out products, namely "Evergrande Fairyland" and "Evergrande Water World" projects, it is planned to radiate across north China, south China, east China and northwest China and land in nearly 30 cities, including Chongqing, Shijiazhuang, Shenyang, Qingdao, Xi'an and Urumchi, thus building a comprehensive picture of cultural tourism.
About ALE
We are Alcatel-Lucent Enterprise. Our mission is to make everything connect with digital age networking, communications and cloud solutions. Our solutions are tailored to our customers' industry providing built-in security and limited environmental impact. We offer flexible business models: in the cloud, on premises, and hybrid. Over 100 years of innovation have made us a trusted advisor to more than 830,000 customers around the world.